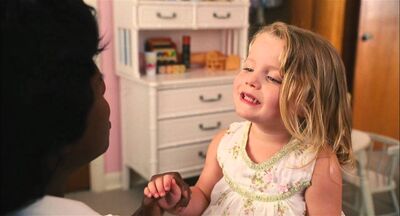 Mae Mobley Leefolt is the 2 1/2-year-old daughter of Elizabeth and Raleigh Leefolt. She has a 1-year-old brother, Ross "Lil Man". Aibileen Clark, the 52-year-old African American maid who takes care of Mae Mobley, and is mostly seen through Aibileen's eyes. Aibileen adores Mae Mobley. Obviously, this is the last thing the Leefolts want Aibileen to do.
From Aibileen's point of view, Mae Mobley is verbally abused by Elizabeth. Elizabeth thinks her daughter is unattractive and overweight. Its possible that Elizabeth never wanted to be a mother. Because of her social status, Elizabeth can't be known as an abusive parent. Her status allows her to abuse and neglect Mae Mobley with impunity, and prevents her from getting help for her problems. There are hints that Elizabeth is raising her daughter the way her mother raised her, with violence and disgust. Elizabeth does not know how to love her daughter so Aibileen is the one who basically raises her. Elizabeth is gripped with postpartum depression who refuses to acknowledge her daughter except when disciplining her.
Community content is available under
CC-BY-SA
unless otherwise noted.